Students' Advisory Cell
Services rendered by 'Students' Advisory Cell':
Basic Service
Listen to Student Concerns about their higher study plans.

Develop students' goals and solutions towards it.

Assist with Academic and Career development.

Develop Counseling Programs in collaboration with International and National Universities.

Connect pupils with their Care Providers in terms of higher studies.
Administrative engagement:
Opening Account for a particular student in Common App, UCAS, Specific University requirement.

Updating all their information in their account.
Transcripts

Recommendation letters

Mid-Year report

School Report

College Report

School Profile

IELTS/SAT/GRE/GMAT/TOFEL Report

Original Result Sheets
Keeping track on their account and e-mail for any update.

Collaboration with the students' according to the university requirements.

Pursuing Scholarship in Different countries according to students' demands.

Nominating students basing on the consultation with Principal, Vice principal and Coordinators in some specific Universities.

E-mailing and acknowledging different University Admission links to the student groups for their awareness of University openings and financial aid.

Inviting students in different Career Counseling session in International or National Universities.

Informing and arranging variety of personal development workshops and seminars for students.

Attending the Career counseling sessions/Conferences/Workshops and webinar organized by different Universities and act accordingly in the interest of the students.

Preparing Student University Placement, Nomination applicant Database.

Providing reports and updates of the Conference /Workshop /Counseling session to the Principal directly.
Documentation work for the students:
College Transcripts- signed by Coordinator and Principal

Predicted grades/ Final Year Numerical Grades- Signed by Counselor with the proof of subject teachers 'and Department Heads' Grading with Initial.

Students Recommendation letter-Signed by Counselor.

Preparation and up gradation of Central Nomination Policy for Universities in collaboration with Principal, Vice Principal and Coordinators.

Nomination in specific University. (Analyzing supplied documents and Referring Name of the outstanding students in particular university in consultation with the Principal, Vice principal and Coordinators).
Students' Advisory Cell-Contact Address:
Ms. Sharmin Akter
Assistant Professor
Students' Guidance Counselor MDIC
Cell: 01819005673
sharminmanarat.sac@gmail.com, sharmin@manaratcollege.edu.bd
Auditorium
Manarat Dhaka International School & College is one of the best English medium education institutions in the country. The Fouad Al Khatib auditorium on the eighth floor of the Academic Building of the college has elevated the image of this institution to another level. The auditorium has a capacity of hosting over five hundred spectators. This large fully air-conditioned room has an advanced sound system, surrounded by soundproof glasses, smoke detectors and is beautifully designed. During any event, the audience enjoys it like a charm. It has a sophisticated green room for participants and organizers. In addition to the auditorium, there is also a separate multipurpose hall room. Currently being used as an exam hall for CAIE O and A Level Exam, IELTS Exams etc. The chamber occasionally hosts cultural events organized by the Manarat University. This auditorium is a token of pride for both the students and the authority of MDIC.
Transport
The school transport facility is comprised of a handful of buses that take the students and teachers to and from the campus.
Library
MDIC has an exuberant library with an excellent collection of books, journals, magazines, daily newspapers, etc. It is situated on the 6th floor of the academic building. The Library rules have been adapted to support the students, teachers and other members of the college. Free access to the internet is available in the library. To enrich the young minds with the knowledge of the Liberation war and history of Bangladesh there is a 'Bangabandhu Sheikh Mujibur Rahman' corner. Another special corner is dedicated to commemorate the contributions of the former Chairman and founding member of MDIC, celebrated scholar late Shah Abdul Hannan. Numerous valuable books were written and suggested by him while he was alive. Those books are now gracing the shelves of the late Shah Abdul Hannan Corner.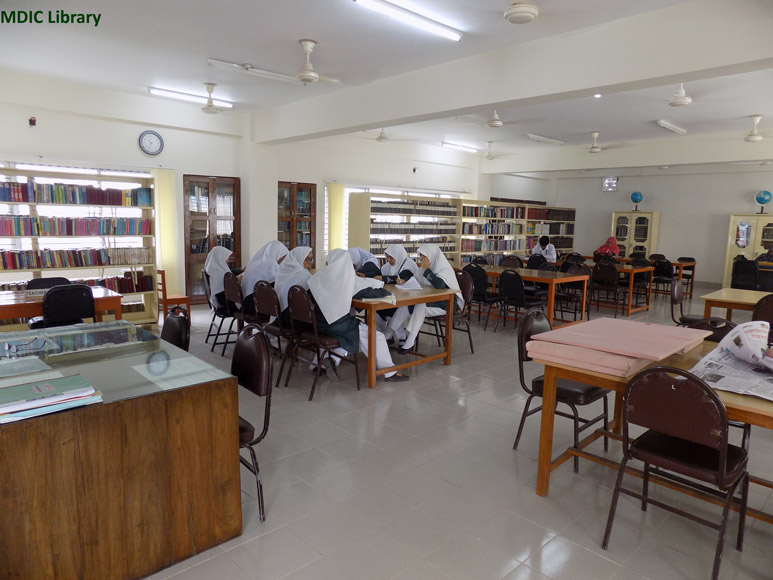 MDIC library is open from 8 A.M. to 2 P.M. from Sunday to Thursday. It is closed on Friday, Saturday and other holidays as declared by the college.
Physics Lab
| | |
| --- | --- |
| | Our Physics Laboratory is well-equipped with state-of-the-art lab instruments and facilities. The laboratory is spacious and aided with air-conditioning. We provide our students with individual, single-use apparatus with free practical booklet. All the required Electrical, Magnetic and Mechanical apparatus are available in the lab. We demonstrate with Cathode Ray Oscilloscope, Ripple Tank, D.C power supply, Multimeter etc. The safety of the students is non-negotiable, thus we have fire extinguishers with fire exits in every single lab. To develop our students in theoretical and practical aspects, we have a separate Optics Laboratory with expensive Optical equipments like Polari Meter, Spectrometer, Optical bench with all optics kits. Our highly experienced, well-qualified, dedicated faculties are conducting Physics lab classes regularly to our 'O' and 'A' level students. |
Chemistry Lab
Chemistry Laboratory of MDIC is well furnished with modern equipment facilities along with multimedia to deliver lectures. Marble-stoned tables together with water basins and burners are available for the students to conduct experiments. The lab has an emergency shower room for accidental corrosive chemicals. Fume cupboards are provided to facilitate experiments related to poisonous gases. Fire extinguishers are always available to ensure safety.During scientific demonstration individual, single-use apparatus with free practical booklet is provided to our students to enhance their capability in theoretical and practical aspects.
Biology Lab
Our biology laboratory is a place where students can carry out biological studies, analyses and experiments under the supervision of competent instructors. This subserves the protection during activities with biological agents.

Laboratory activities and inquiry provide students with opportunities to question, observe, sample, experience, and experiment with scientific phenomena in their quest for knowledge of living things. Thus, studying in a laboratory is an integral and essential part of a biology course.

School labs are a great place for students which help them enhance their learning by understanding the theoretical concepts of science which are taught in classrooms.

Well-designed laboratories not only make science experiments fun but also help students in achieving good academic results.

We are proud to have a wonderful Biology lab for our O and A-level students. Our students can do enzymatic reactions, food tests, enzyme immobilization, colorimetric reading, antibiotic resistance test, electrophoresis of DNA, centrifugation of blood, blood group test, Culture of bacteria in an incubator, human skeleton study and many other related activities according to the O and A level syllabus.

Our lab is well-designed with lots of critical space for natural movement and flow. Students are able to have quick access to safety features such as a hand wash station and fire protection system.
Computer Lab
MDIC has two computer labs (one for boys and another for girls) with more than 80 computers equipped with latest technology to ensure that the students keep abreast with the fast-changing IT scenario. The labs are equipped with a dedicated broadband Internet connection for enterprising students who love to work connected with the digitalized world.

The department has qualified, committed teachers to teach different classes. The faculty members make continuous efforts to see that the students must get expertise in the practical implementation of tools they have in their curriculum. Students are provided with computer education right from class 3. We maintain an ideal student-computer ratio of 1:1.
Science Lab
Science lab is the center of science teaching and learning.

To facilitate the students, MDIC Science Department has a well-equipped Science lab with all the modern facilities for the students of class 3 to 6.

The laboratory has been given a central and distinctive role in the learning and understanding of science.

Practical experience necessary for better understanding of scientific concepts can be acquired.

The important part of science study is to develop interest in scientific research. By carrying out different experiments the students' reasoning skills are honed and they start thinking deeply on those theory and concepts.

Practical work in science education is used to engage students in investigations, discoveries, inquiries and problem-solving activities.
Indoor Games Room
There are Indoor Games Rooms in both the Boys' and the Girls' sections with indoor game facilities for playing Carom, Table Tennis Ludu and so on.
Activity Room
A dedicated room specially used for kids' learning activities; such as interactive studies by the use of different practical materials with virtual interaction. At times junior kids attend presentation classes on PowerPoint.
Playground
MDIC can be distinguished from other contemporary schools and colleges by its spacious playground, whereas most other educational institutions hardly have fields or playing areas to support the outdoor activities of the students, there are two separate playgrounds for boys and girls in Manarat.
Every year inter-school football tournaments and handball tournaments are held in these playgrounds. Having such playgrounds aid the students of MDIC to exponentially develop their physical fitness and also allow them to escape from monotony in a healthy way. Hundreds of parents regard the college differently because of its playground and choose the college for their sons and daughters.
Standby Generator
We have a 350 KVA standby generator facility that enables us to ensure uninterrupted power supply during load-shedding.
Electric Sub-Station
We have two electric sub-station facilities for uninterrupted and a wider range of power support. Our substations' capacity are 1250 KVA & 500 KVA respectively.
Buildings
The biggest feature of MDIC is the separate buildings for boys and girls. There are 3 (three) multistoried buildings and a tin shed building equipped with modern facilities. There are 2 (two) separate buildings with 5 floors for boys and girls. The buildings have all the necessary laboratories and other amenities required to disseminate quality education. The 8-story academic building has various labs, auditorium, multipurpose hall, principal's office, administration office etc. The designs of the college buildings have garnered praise from the best architects of the country.
Lifts
Technologically higher, strong and well-furnished Lift facilities are available for students. There are three lifts for the three multistoried buildings.
Education Management Software
We are providing various facilities to parents through the Online Education Management Software (OEMS) by sending SMS, Attendance, Notice, Documents, Results, Fees information etc.
Guardian Shed
There is a guardians' shed where the parents can sit and pass their time comfortably while waiting for their children/wards to complete their school time activities.
Deep Tubewell
Manarat campus has a deep tubewell that ensures sufficient pure water supply facilities. Because of it, providing safe and pure drinking water for all the students and staff is possible.
Water Purifier
The whole MDIC campus has the facility of pure drinking water for all.
Medical Center
The Medical Center at MDIC has two professional physicians (male and female) who are present to take care of the students' health problems and provide primary medication in case of any emergency. For this, the MDIC Medical Center is equipped with varieties of necessary medication, first aid and other basic medical facilities.
Canteen
The Canteen offers healthy, hygienic and tasty food.
Security
MDIC takes the security of the students and the campus very seriously and that's why there are several security measures like the CCTV Cameras, vigilant security guards, walkie-talkies, metal detectors and number of distance temperature measurement kit.
Bio-metric Attendance
Employees of MDIC use Biometric Attendance System during entry and exit. We are also using it for senior students.